iMask has undergone a change of ownership since October 2016. We are still manufacturing most components in Tasmania, Australia. We are a family run business with Simon and Lois Stanbridge as Directors of the company.
iMask Protective Eyewear is an invention of Mr. Max Moorhouse, an Australian NCAS accredited Level 2 senior squash coach for many years.
Although it has many other uses, iMask was developed specifically to prevent eye trauma resulting from accidents occurring with the racquet and the ball during a game of squash. It is also suited for any other small ball sports.
In 1995 i-MASK became the first eyewear to gain World Squash Federation approval.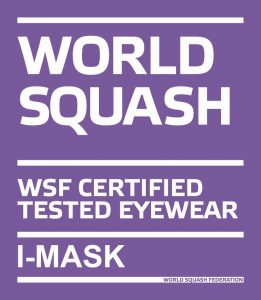 The patented concept of flat manufacture, to then be assembled by the purchaser who could disassemble the unit for flat and compact storage after play, was developed over a period of about 10 years. Alternatively, the unit can be left in its assembled state with no long-term effect.
Its unique design and manufacturing process has been patented nationally and internationally.
There were many things to be considered.
The most vulnerable players then, and now, are women and children, beginners and spectacle wearers. Just imagine being hit with a full-blooded racquet swing on the legs and think what it would do to your face and ... one shudders to think ... your glasses!
The ball, on the other hand, is capable of inflicting almost incomprehensible pain when your opponent drives it into the back of your legs.